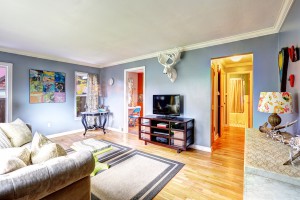 Bedroom color is an intensely personal choice. This is the room where you can give yourself free rein to explore shades you might not use in rooms like the kitchen or living room, where more people will be seeing the color regularly. You don't have to stick with a neutral or pale shade at all, and you can experiment with more than one color if you like. Here are some tips to get you started:
Consider what you want your bedroom paint color to achieve. Do you want a restful feel? Consider softer shades of your favorite color. Do you want a romantic retreat? A bold red or pink can add some sizzle.

Neutral colors can be a wonderful backdrop for vibrant bedcovers and linens. Today's neutrals don't have to be beige. Light shades of gray, green or any other color can be a neutral if it is a background shade for other colors instead of the focal point.

Cool colors such as blues and greens tend to be more restful than warm colors like reds, yellows and oranges.

Add impact by using a darker bedroom paint on one wall as a focal point. Framing a beautiful armoire or headboard with a contrasting shade on the wall can heighten the impact of a treasured piece of furniture.

Lighter bedroom paint colors make a room feel more spacious, while darker colors will make the space seem more intimate and cozy.
Matching paint colors can be difficult if you are considering two or more colors, so be sure to grab some paint chips before buying. Once you've narrowed it down to a few colors, apply some sample squares to your bedroom walls to ensure the color looks as good in the room as it does on a paint chip.
Taking your time and putting some thought into your bedroom paint color will ensure your bedroom will be a beautiful retreat you'll love for years to come.