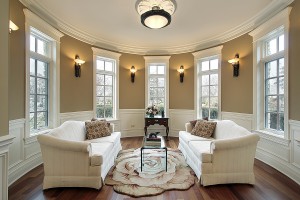 Much like people do spring cleaning to freshen up their homes, there is also fall painting projects that can be done to make your home more beautiful. You don't have to spend a lot of money to make your home more beautiful, and if you don't want to do the job yourself, you can hire a painting contractor to help for relatively cheap if the project isn't too large. Here are some fall painting ideas for your home.
One thing that could use a fresh coat of paint may be your front door. First impressions matter, and your door is one of the first things people will see about your home. If your old one looks dingy and you don't want to get an entire new door, you can easily paint up your old one and make it look like new again.
Cabinets in your kitchen or bathroom could also use a touch-up. For some spaces, it could be as simple as replacing the handles and other hardware. However, if it has been awhile since they've been updated, consider hiring a painting contractor to come repaint them for you.
If you want to make it seem like you have new decorating but you don't really want to redecorate or spend the money, you can also paint the picture frames in your home. Over time, the frames may get some wear and tear on them, causing them to need a new coat of paint to hide scratches.
If your house is a little older, you may also want a new coat of paint on the walls. You do not have to dive into an expensive and time consuming project to paint the entire house. Rather, you can start with one or two rooms at a time to get rid of scuffs or other marks on the walls. A painting contractor can help you make the rooms look like new again.