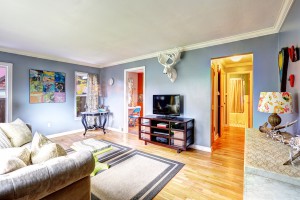 You spend a lot of time in your living room and want it to be a space that is relaxing and fun. When you consider paint colors and techniques, talk to professional painters and get their take on what will best work in your space. This will help you to get out of your comfort zone and explore ideas you never thought of before.
Earth Tones
Earth tones are popular and it is easy to work them into almost any décor scheme. Greens, blues and purples are the easiest to work with and they also give your space a relaxing and tranquil feel. If your living room is smaller or has limited windows, stick with a lighter earth tone since lighter colors tend to make a space feel larger.
Metallic Colors
Metallic colors are a major trend right now and one that can bring your living room to life. Consider using a metallic paint for an accent wall or to do the window and door frames instead of the entire room. Experienced painters can apply this type of paint evenly since metallic colors can be tricky. This allows you to incorporate this trend without it being overwhelming or too loud and bold.
Patterns
If you want to really make a splash in your living room, consider painting a pattern. You can do this on all walls, or just choose one wall in the room to paint a pattern. Patterns like stripes, diamonds and geometric shapes make your space more playful and it gives you an excuse to use several complementing colors. For example, if you cannot decide between two colors that work well together, you can incorporate both with a pattern.
Before painting your living room or doing any other exterior painting or interior painting, consult a professional painter. Experienced painters will get the job done promptly and flawlessly, ensuring a fun and aesthetic space.