Choosing The Best Exterior Paint Finish for Your Home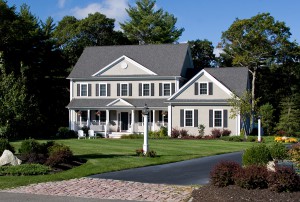 If you are contemplating an exterior paint job, you might start by considering the look that you would like to achieve. A wide variety of exterior paint finishes are available – including flat, gloss, satin, and textured –  but not every finish will be suitable for your dwelling. Factor in the architectural style and materials of your home exterior in order to make the best exterior painting choices.
Flat paint provides a matte appearance without shine, comparable to an egg shell. Flat finishes are durable and easy to clean, but are not intended for use on metallic or wooden surfaces. If you choose a flat texture as a primary finish, you may want to select an alternative finish for features like window panes.
Gloss finish is the opposite of flat finish. Gloss paints have high sheen and are ideal for metallic surfaces. A gloss finish can provide the perfect touch for accents or details. Satin finish falls in the middle of the shine spectrum between the two exterior painting extremes of gloss and flat. Satin paints are the most versatile in the sense that you can paint every exterior surface of your home with this finish. Satin finish will attract less dirt than gloss and can withstand pressure washing and sun-bleaching.
Textured paint is one of the most popular finishes for exteriors. Textured paints are available in a wide variety of appearances and colors and can provide a thicker and more protective coating. A wide range of effects are possible with different textured paints and brushes.
Exterior painting experts have experience painting a wide variety of surfaces and working with every type of finish. Painting professionals can recommend which finish or combination of finishes will look best and last longest on your home. You are more likely to be satisfied with the results of a skillful paint job for years to come.